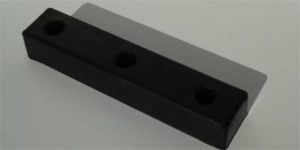 We provide loading bay bumpers, for trucks and loading bay walls as well. Are made of mold-injected rubber, specially suitable for tasks requiring durable and weather-resistant rubber.
Sizes
400X85X65MM
Amb 3 forats.
Applications
Les principals aplicacions dels topalls de goma, son la protecció de molls, indústria nàutica, parkings, etc.
Its main uses are loading bay protection, maritime industry, parkings,
If you can't find what you are looking for, you aren't sure of which product is the best suited for your needs or require advice, CONTACT US.